Asian Premiere of Lamentation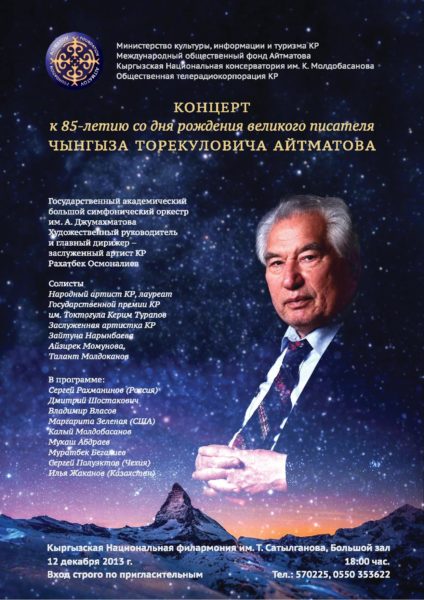 The Asian premiere of the "Lamentation" (for

violin solo

and strings) by Margarita Zelenaia
will take place at the Concert Hall of the Kyrgyz National Philharmonics named by T. Satylganov in Bishkek, Kyrgyzstan, on 12/12/13 at 6:00pm.
Performers:
Talant Moldokanov, violin
and
The State Academic Symphony Orchestra under the button of Maestro Rakhatbeck Osmonaliev
The concert is dedicated to the memory of Chingiz Aitmatov, the great writer, whose 85 years since he has born is celebrating.
The program also features works by:
Rachmaninoff, Shostakovich, Vlasov, Moldobasanov, Abdraev, Begaliev, Poluektov, Zhakanov
With support of the Ministry of Culture, Information and Tourism,
The Aitmatov's International Public Foundation,
The Kyrgyz National Conservatory named by K. Moldobasanov,
The KR Public Television and Radio.